Being able to convey the love for their land is not easy.
Make it through the bright colors of a magnificent time-lapse HDR is something no one had done so well before.
It is with pride that we share with you today this little work of art dedicated to the beautiful city of Salerno, signed by Pierpaolo Di Maio, an italian time lapse artist!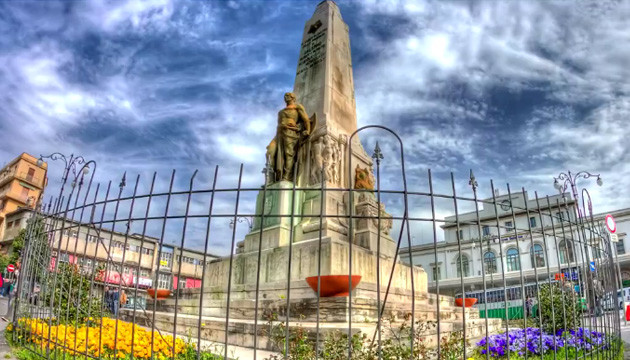 A tribute to Alfonso Gatto, poet, journalist and writer of Italian 900: that's where the romantic title of today's time-lapse: Salerno, rima d'inverno.
Salerno, rima d'inverno
o dolcissimo inverno
Salerno, rima d'eterno
Because a time-lapse HDR is not a simple thing
Anyone who creates photographs or videos through the use of the technique of HDR knows that it is really very easy to end up giving the images a look disturbingly surreal, almost psychedelic.
Good HDR images are those that show light and shadow, and doing so with grace.
Not only that, you know that it is even more difficult to be able to make perfectly clear images that contain moving elements such as plants, clouds, people. This is because the frames that compose them are necessarily what tripped in moments of time different from each other.
A great tribute to the city of Salerno, in Full HD
It seems absurd to know that for a little over 4 minutes of video have been required more than 21,000 photographs captured between January and April of 2012, and hundreds of hours devoted to post-production .
There are many tourist destinations portrayed (Piazza Flavio Gioia Square portanova, Mercatello Park, Teatro Verdi, Arechis Castle, the picturesque harbor, Vestuti Stadium, Cathedral of St. Matthew, the Forte Carnal) , but also several places dear to people of Salerno as the pasta factory Antonio Amato, now in disuse.
And you, what do you think?
Available in all its elegance in Full HD 1080p (we suggest you enjoy it as well), this is Pierpaolo Di Maio.
We await your comments.
httpvh://www.youtube.com/watch?v=DquiwaYYkkk
Equipment Used
Cameras: Canon 60D
Lenses: Canon 50mm f/1.8, Tokina 11-16mm f/2.8, Samyang 8mm f/3.5
Slider/Dolly: n.d.
Other info: Manfrotto 7322 YB, Photomatix 4.1.4, Adobe Lightroom 3, Adobe Photoshop CS5, Adobe After Effect CS5, Virtual Dub 1.9.11 + MSU Deflicker 1.3, Sony Vegas Movie Studio HD Platinum 11.0
Credits
Show your support: Pierpaolo Di Maio su Facebook o sul suo sito personale.