Professional digital visual artist – and co-founder at Ditogear – Patryk Kizny teaches us his suggested workflow for the post-production of a HDR time-lapse video.

How to create a HDR time-lapse?
Here is part two of our specialist tutorial, committed to showing you how to work on time-lapse videos in post-production. This section is going to look at HDR (High Dynamic Range) time-lapse sequences.
If you find that this is a little too complex for you, and you want a simpler more basic guide, then you should instead take a look at the Complete guide to the post-production of a time-lapse video.
Please note that:
HDR time-lapse videos post production tutorial
Here we have a workflow plan which has been put together by Patryk Kizny from DitoGear in order to help you to make the most of your RAW files and to illustrate to you how it is possible to make use of the rich 12-14 bits of colour depth given by the RAW files from DSLR.
Do note that if you are using SDR to film and then processing via the SDR workflow (as per our Complete guide to the post-production of a time-lapse video) if this is not sufficient, you can instead try the HDR workflow option.  This is a much denser option so you would need to allow more time and take account of the fact that it is computing heavy.
However, generally the approach is the same for both, even though some of the technique/software is made use of to mix together multiple exposures to HDR 32bpp images.  To prevent things getting too complicated, we will focus only on the steps that are not the same as those in the SDR post production workflow.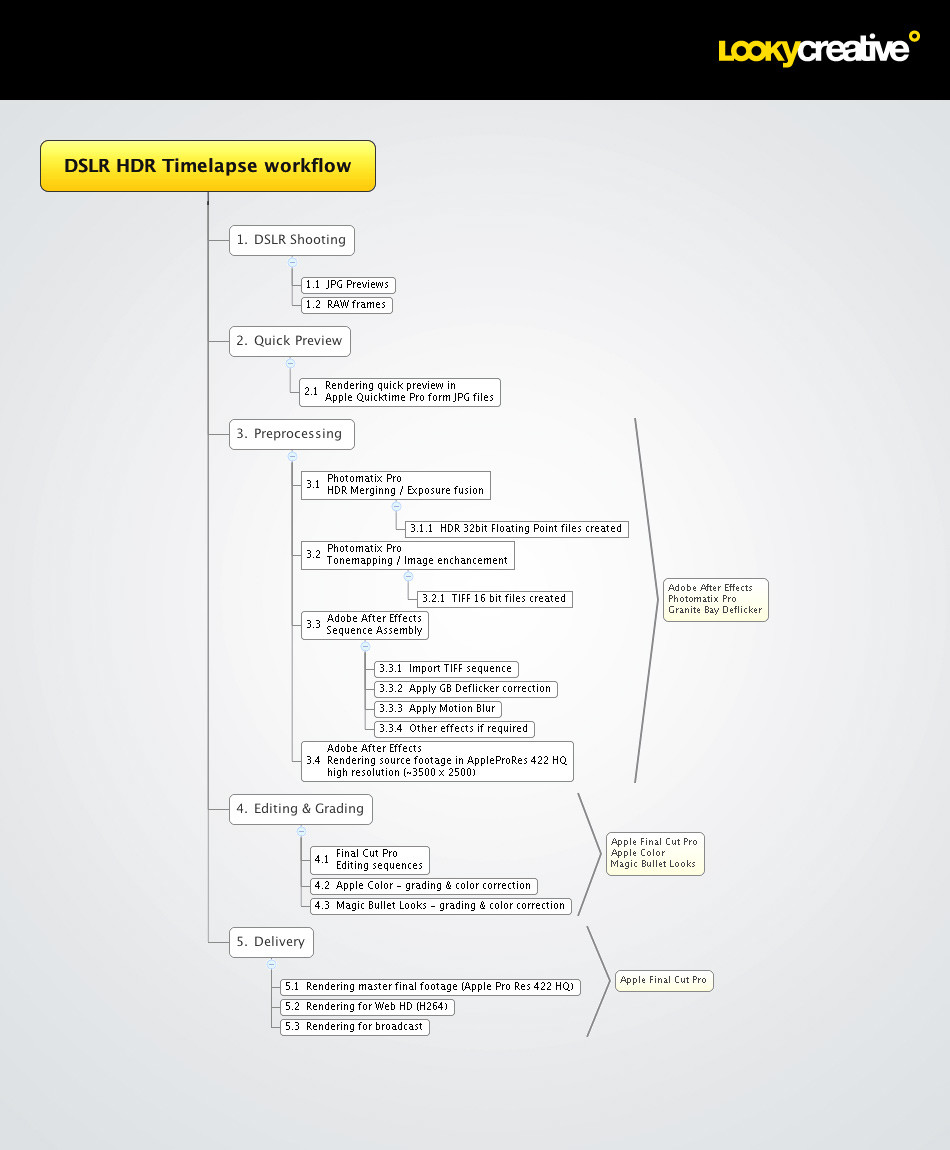 1. The Shooting phase
The same rules as in SDR workflow apply, but you need also need to shoot stills using exposure bracketing. 3 stops, -2/0/+2EV is suitable in most cases.
We will deal with the shooting for HDR in a separate article, not within this tutorial which concentrates purely on post-production.
You need to take account of the following information:
Ensure that you shoot with low ISO, on a 5D use native ISO settings (160/320/640/1250) to get the noise to the lowest level.
When shooting with a wide angle lens and aiming to finalise the material in post-production, using Tone-Mapping for instance, make sure to shoot with the aperture set at least at ƒ/4.
If you shoot on ƒ/2.8 on a full frame camera on a medium-quality lens, the exposure may drop towards the corners of the frame and could be as high as 2EV (2 stops). This is something which could pose a problem later when tone-mapping, and may create a lot of noise. By stepping down the aperture you can reduce the vignetting which will ensure that the frame is more evenly illuminated.
2. Quick Preview
The same workflow as for SDR processing applies over here. Render out the previews from the middle exposure (+0EV).
You can make use of a basic trick to isolate previews if using a Mac.  Simply fix the finder so that it displays the icons in a grid as the window is re-sized.  Then set the size of the window so that you can see the icons in three columns.  All you need to do now is drag across in order to select the middle column and copy across to a fresh folder.  You are now ready to continue.
3. Pre-processing
You now need to think about how to merge the sub-exposures into HDR frames set at 32bpp before you continue to develop in a similar way with the SDR workflow.  They can be imported into Adobe After Effects  in order to finish off the master footage in high resolution.
1. Isolate stills sequence
Here you can use the same workflow as recommended for the SDR processing.
2. Merging images in bulk using Photomatix Pro
By making use of the batch feature available in PMP (Photomatix Pro) you will be able to batch run a set of files so that they produce a sequence of HDR images. You can instruct PMP to process your chosen files in groups of three in order to fit in with your 2/0/+2 bracketing sub exposures. You will now be left with a set of 32 bpp HDR images that can be developed in the next step.  The procedure is fairly details so do allow some time to digest fully.
In Photomatix there are two options for storing HDR images. Both are 32bpp so are absolutely fine with regard to quality:
HDR format is useful as an intermediate format if you wish to carry out  tone mapping or exposure fusion in the next step in Photomatix and then follow on by editing/grading your tone-mapped images. HDR can be dealt with by Photomatix and maybe some 3D software, but is not often used in post pipelines. I made use of this procedure for The Chapel which utilises a highly polished and tone-mapped look. Should you prefer to stick to HDR then you will need to follow Step 3 which is shown below.
Open EXR is useful if you are utilising Photomatix for merging files, but you will then need to carry out your processing elsewhere. Open EXR is acceptable to a larger variety of programs and is also handled directly in Resolve. I used this recently for Rebirth.  If you select this option then you can miss out Step 3 which follows and instead move on to the Edit/Grade option.
3. Developing HDR files and compressing them
This section deals with the production of the source files, similar to the process used in the workflow for the SDR.  The difference is that we are working on RAWs and will use Photomatix to sort out our creative choices.
Tone Mapping or Exposure Fusion features can be used to go from 32bpp to 16bpp images.  Experiment with the settings that PMP provides and take account of the fact that the more aggressive the development, the more time you will need to devote to checking the settings on multiple frames. Most importantly, do save your settings at the end in an XMP file.
4. Develop the sequence, using the batch function
Now we can look at the second batch that needs to be dealt with.  Using your HDR files and your previously used system, you can now look at converting the HDR files to 16-bit TIFF files. This is very storage heavy and PMP  does not provide any optional  intermediate formats to store your 16-bit data. If you are just looking for a low-quality computing-lightweight workflow then you can consider exporting into high quality JPGs.
5. Import sequence in AE
Proceed as described above in the SDR Post Production workflow.
6. Export
This is the same procedure as described above in the SDR Post Production workflow.
Credits
Our mission at Time Lapse Network is to provide passionate people with high quality and free time-lapse tutorials, together with a forum focused on time-lapse.
Rather than compose the  SDR/HDR post production tutorial ourselves, we chose to opt for the quality contents coming from the major worldwide experts in the field: Patryk Kizny is definitely one of them!
If you would like to thank Patryk for his courtesy and time taken, then you can:
Please show him your support!
Patryk Kizny – LookyCreative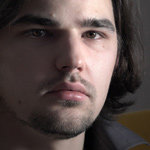 Patryk Kizny is a digital visual artist. His skills and activities span across multiple disciplines of visual creation starting from graphic design through photography, astrophotography, motion design to cinematography & timelapse.
Since 2010 he has also been running LookyCreative – an independent film production studio.
He's also partner at DitoGear – a timelapse and film equipment manufacturer.