Emeric Le Bars is a French Motion Timelapse and Hyperlapse Photographer living in the city of Los Angeles. He's been working in the time-lapse photography for the past 8 years.
Emeric has created hundreds of clips and sold his work to companies such as Adobe, Facebook, OPPO, Google, Netflix, LG, Microsoft, Mastercard, Red Bull, Nike with Converse, NBC Universal, Time Warner Cable and so much more.
It's a pleasure to host him here, on Time Lapse Network!
Hey Emeric, why don't you introduce yourself?
My name is Emeric, I am a French filmmaker and timelapse photographer currently located in Los Angeles, California.
I moved to Los Angeles in 2013 for an internship as a video editor. I am still working in this industry today along with creating timelapse videos.
I created "Emeric's Timelapse" in 2014 to share my timelapse work on social media. We could say it's like a stage name.
How did you become a timelapse photographer? Going from a simple hobby to a professional career? How did timelapse change your life?
I shot my first timelapse back in 2011 when I was still in college in France.
I was using a cheap Panasonic camcorder that had a timelapse feature.
I started with a simple timelapse video of my hometown, Angers.
The video got a few thousand views online which was a lot for me at the time. The feedback I received from people really made me want to pursue this as a hobby.
Back in 2011, the craft wasn't what it is today, but it was still possible to find a few tutorials on Youtube to get better.
I got my first DSLR a year later and started to really get into it.
When I moved to Los Angeles in 2013 (at 21), I put timelapse photography aside for a few months as I was working a lot for a production company as a video editor.
It's only 6 months later that I realized that LA would be an amazing timelapse subject. Again, I started shooting a few timelapses around Downtown LA and Griffith Park for fun, but nothing professional.
My work as a video editor led me to online marketplaces, websites where anyone can sell digital content such as images, stock footage, music and more. This is at that time that I decided to try and see if people would purchase the few clips I had shot in Los Angeles.
I had my first sale really quickly actually. It was only a few dollars, but it was enough to make me continue creating timelapse videos and license them online.
Every now and then, when I had some free time, I would go shoot timelapse videos in the city to sell them online.
Shortly after, I discovered several other marketplaces I could sell my work on. This was the beginning of my professional timelapse career. I realized that there is potentially some good money to make here.
About a year later, I realized that I needed to shoot something other than Los Angeles.
So I decided to drive to San Francisco and San Diego to shoot some timelapse videos of the 2 cities. They are both very photogenic and a great timelapse playground!
I loved it so much that I wanted to do it more often, shoot more cities, travel more around the country and shoot more timelapses.
Money was obviously boosting me to create more, but I also have so much fun shooting each clip, from traveling to the location, to staring at beautiful views for hours, to watching the timelapse for the first time on my computer and even sharing on social media…
Every single step of creating timelapse videos is exciting and rewarding.
And obviously, if I can make money from it, why not?
Over the years I kept improving my skills. I learned day to night in 2015.
At first I was blending a golden hour and a night timelapse, then I quickly started to do the exposure ramping manually after discovering what LRTimelapse could do!
I really started digging into hyperlapse videos in 2017 when I wanted to challenge myself a little more.
It's hard to stay creative sometime, but you always need to push and challenge yourself to do more. It's amazing what you can end up creating and what you are capable of if you just try!
I had a lot of failures, but I think it's part of it if you want to improve your work.
Fast forward to 2020, I am still a video editor with a huge passion for timelapse photography. It changed my life for the better.
My Youtube channel, where I share timelapse tutorials, travel vlogs, timelapse edits and more really took off with over 42K subscribers.
I created over 17 hours of online classes about timelapse and hyperlapse photography, in both English and French, to teach the craft to people around the world.
It makes me really proud to see my students create better content after watching my courses, it's so rewarding and why I love teaching!
Instagram also helped build my timelapse career.
I met so many friends all around the country (and world) through that platform, just by sharing my work! It's a great way to share a few second videos and share behind the scenes.
The community around timelapse photography is amazing.
Today I traveled all around the US and captured cities like New York, Chicago, Atlanta, Las Vegas or Denver. I have a portfolio of around 1000 timelapse videos, most of them up for licensing on the different marketplaces and on my own website.
I keep traveling around, meeting other timelapse photographers, filming vlogs, tutorials and online classes. I developed such a true passion around the art, I hardly see it fading away anytime soon.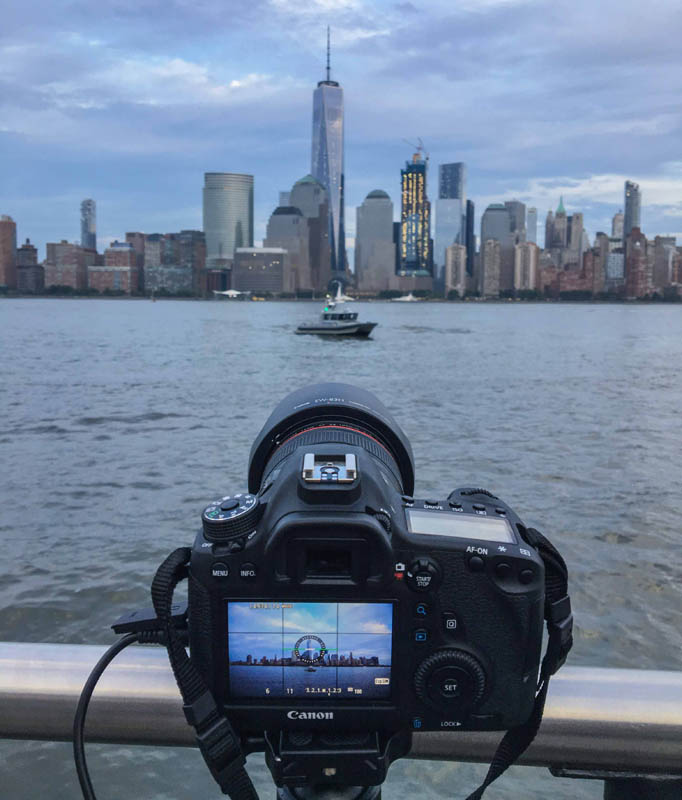 We know you are doing timelapse photography to share a message with your viewers around the world. What is it?
You play with time when you create a timelapse video.
There is no other art form that allows you to do that. Seeing the light changing, the clouds floating in the sky … it's a very poetic way to share my vision of the world around us.
A timelapse photographer takes something ordinary like a building, a freeway, a skyline … and makes it almost magical and beautiful by mixing it with a sunrise, a sunset or the light moving through the clouds.
I have been focusing mostly on cityscape time-lapses for the past 8 years as I live in cities most of the time, but also because it's exciting.
Cities have a pulse, a rhythm, almost like a heartbeat, with constant motion day and night, people are living their lives … and the timelapse photographer is here to capture all of it, almost like an outsider. But we are not, we are part of it.
When I was a teenager, I always dreamed of visiting big American cities, so being able to capture them in my lens today using timelapse photography is such a pleasure and a passion.
There is nothing like it!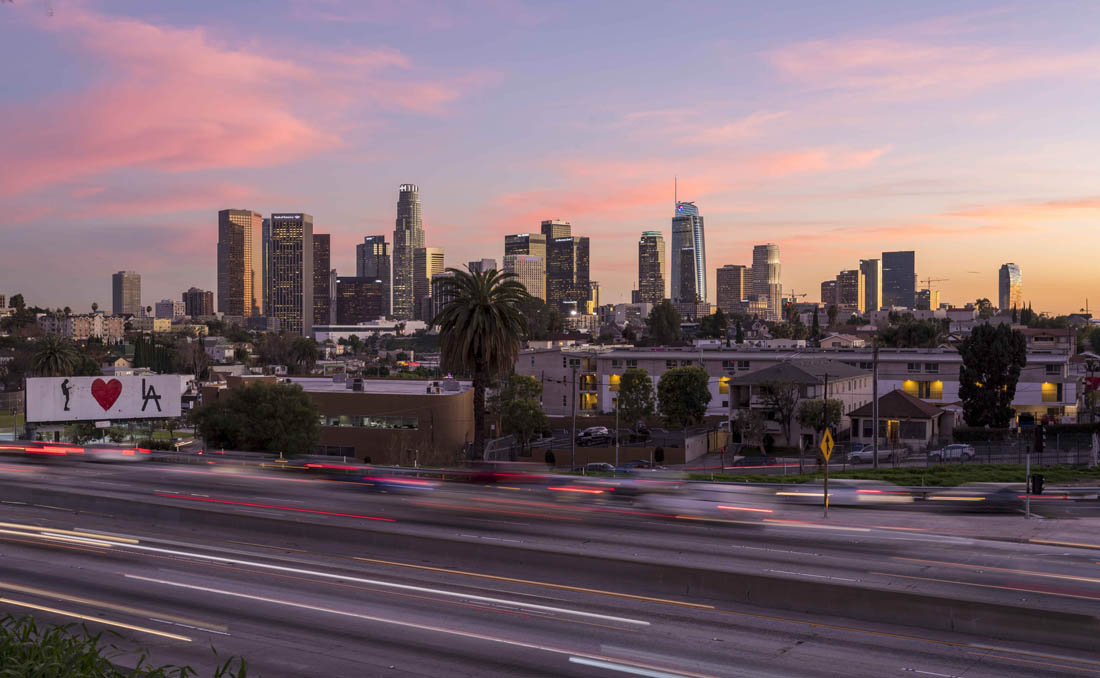 Timelapse photography is becoming more and more popular as technology becomes more and more affordable. What makes you different from other timelapse photographers?
First of all, I think that it is awesome that timelapse photography becomes easier and more affordable every year.
Camera companies recently started to see timelapse as a true art form by incorporating timelapse features inside the bodies.
Tech companies started to build motion-controlled systems that are more affordable and precise. It really opened a whole new world in the timelapse industry.
So yes, that is the reason why more people and photographers, in general, want to try it on their own.
If there is something I learned over the years, is that everyone has their own mission, their own goal to reach and their own reason why they shoot timelapse videos.
Maybe it's just for fun, maybe it's to challenge themselves, maybe it's to make money or just to share on Instagram or have a good time with their friends.
That's why every single photographer out there is different from the other one. But actually, for me, I think it's a mix of all of that.
I found in timelapse photography a way to express myself, make money, feel fulfilled, travel, meet people, shoot and edit videos, create content, share my story… and I don't know that many people with the exact same motivations and goals around the craft.
Obviously I do have a lot of friends who shoot timelapse videos, but they rarely have it as their main source of income or main activity. I learned photography by shooting timelapse videos right away, and not stills, which I think is not very common.
One more thing that I love with timelapse photography in general, is that it's mixing photography with filmmaking, which means editing videos is still a very important part of my work!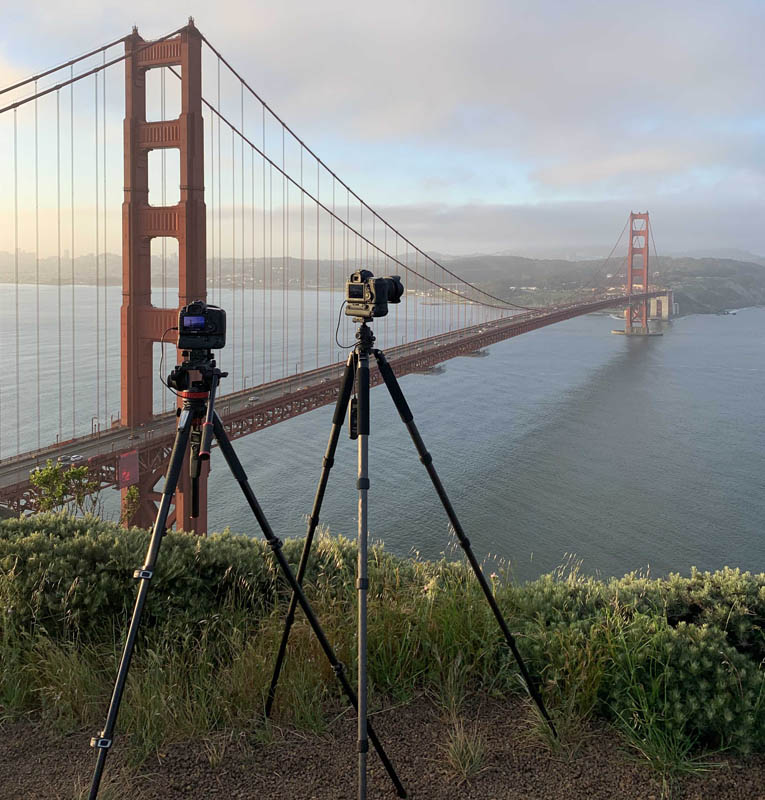 You recently drove from Los Angeles to New York on a 3 week road trip. What was the purpose of this trip? Did that affect in any way your personal or professional career as a timelapse photographer?
It was a dream of mine to do such road trips.
I left LA in September after almost 7 years to move to the East Coast. I needed a fresh start. Instead of flying there and selling most of my stuff, I filled my car and drove 3700 miles from coast to coast.
I didn't take the shortest route, I drove all the way to Denver in Colorado, then went South to Texas, Atlanta then finally up to Philly and New York.
I wanted to take my time, stop in different places to film and shoot timelapse videos. I wanted this road trip to be memorable and enjoyable, I didn't want to rush to my destination. The journey is way more important than the destination.
I planned this road trip for about a month or two, trying to coordinate with people's schedules and my own. I was usually driving between 7 to 8 hours a day.
I spent a few days in cities such as Denver, Dallas, Atlanta or Philadelphia to meet with some friends and shoot some timelapse videos (obviously). It was actually very exciting to work in those conditions because every single stop was a small adventure on its own.
When I was done, I was just going back on the road to get to the next one.
I got to meet other timelapse photographers that I had never met before, and they were part of the journey and what made it unforgettable.
Indeed, I have been shooting timelapse videos for years alone all by myself, it was nice to shoot with other passionate people who know the area better than I do.
Now, even here in Los Angeles where I settled in, I always try to go shoot with people who enjoy timelapse photography. The road trip really helped me get to know the timelapse community a little more, and I have to say, that is an awesome one!
Today, I am planning to go back on the road and capture timelapse videos of the Southwest and other city skylines such as Seattle, Houston, Austin, Boston and more. I am also planning to go back to locations I have already been to, but with a goal to capture them in a brand new way. I am even planning to drive there for some of those destinations and re-create the same type of road trip I did while driving between Los Angeles and New York.
Also, I filmed the entire experience with 6 different cameras and the series is available on my Youtube Channel "Emeric's Timelapse"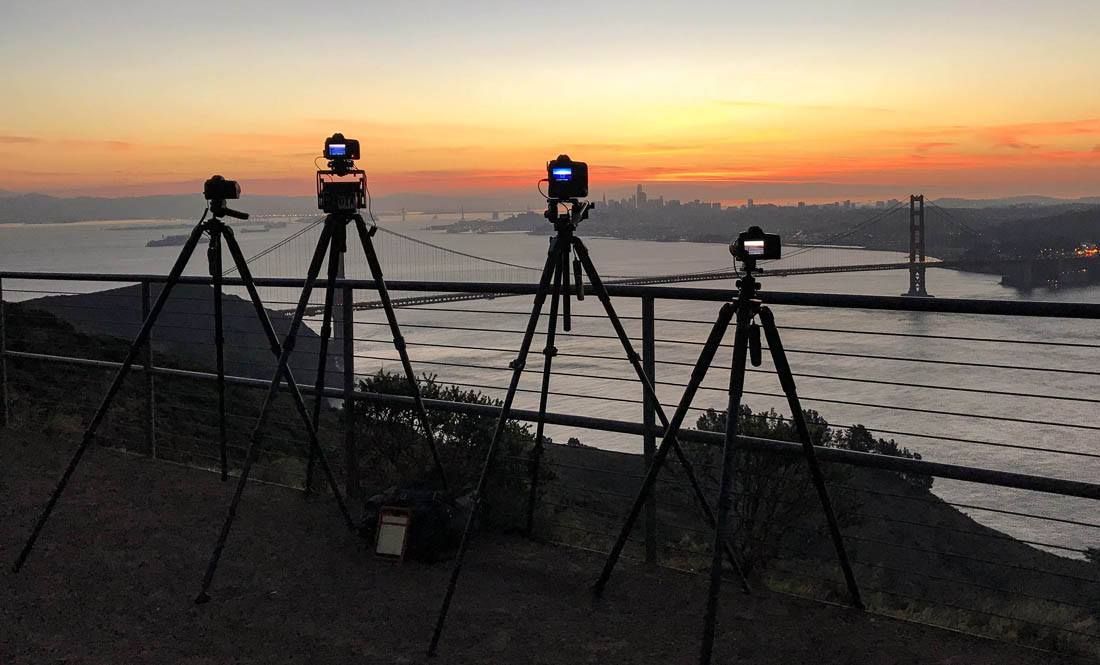 What is your proudest achievement in your timelapse career?
I would say it's everything, in a way.
Timelapse photography changed my life in so many ways. I moved from France right after college from a small city in France and succeeded in America doing what I love, creating timelapse videos. I feel very proud of that as it was a teenage dream… but everything was not pink every day.
I went through tough times where I almost gave up and flew back to France.
But I fought so hard, kept doing what I love and eventually everything worked out at the end. I had to keep my head up in order to move forward.
Companies such as Netflix, Google, LG or Nike (to name a few) licensed my work for their projects. I worked with Facebook, OPPO and Adobe on a couple of promotional campaigns using timelapse photography. I even ended up in French National television for an interview about my work in San Francisco.
That is just insane.
Today in 2020, I still want to push myself to do better things, I want to challenge myself more in timelapse photography, travel and meet more awesome people.
I want to keep teaching the craft to students from all around the world, I want to keep creating and filming… I am very proud of who I have become and what I am doing with my life, but I don't want to stop here, I still have a lot to learn!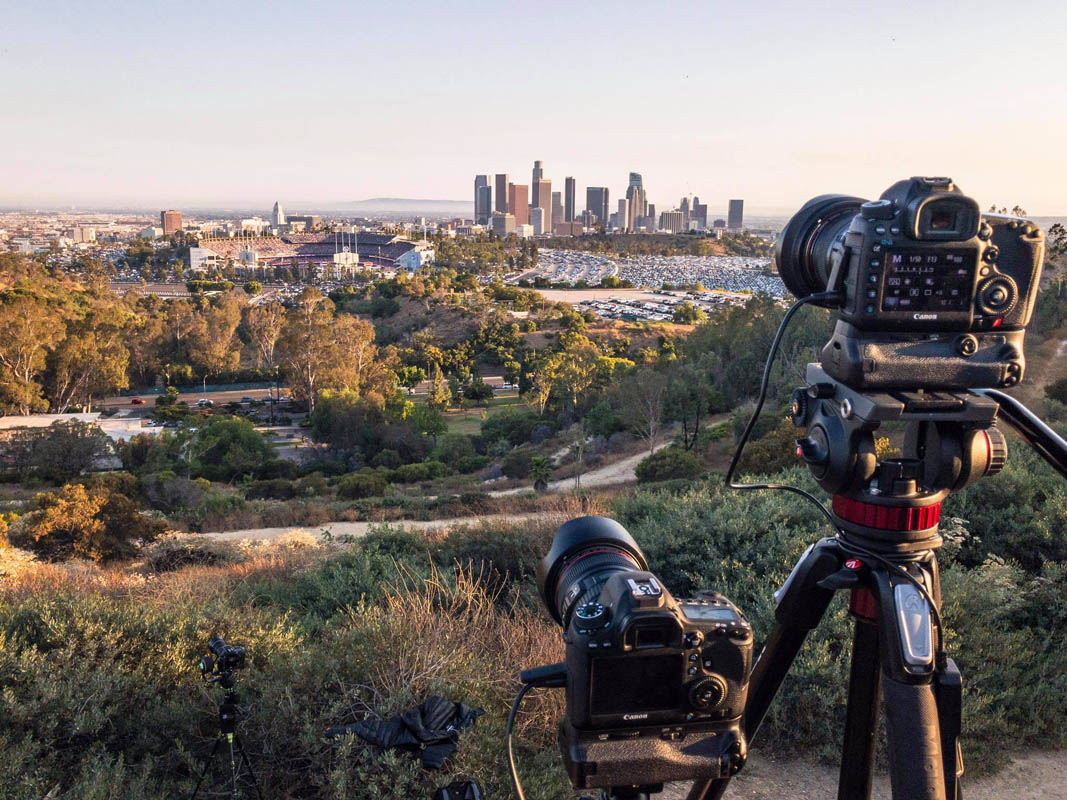 How do you see the future of timelapse photography?
I don't see timelapse photography dying anytime soon. In my opinion it's actually going to be even better and easier to create.
I see more motion-controlled systems with more features and options only for timelapse photography. I see better drone hyperlapses.
It's already awesome but I feel we kind of get limited during the night. I see a growing community and I wouldn't be surprised if famous stills photographers start shooting their own.
After all, they probably already have all the gear for it.