Professional timelapser Alessandro Petrini shares his thoughts on the new Slider ONE eXtension Track 240 by ShooTools, the perfect solution for those who can't make it without video or timelapse camera movements.

Winner of many awards in Italy and abroad, Alessandro has published his photos on magazines like Digital Camera Magazine, FotoCult and Professional Photoshop.
Before reading his review, let's watch a couple of timelapse videos he has created: Twofold Nature and Pescara
ShooTools Slider ONE eXtension Track 240 Review, by Alessandro Petrini
Timelapsers life is not easy, as in order to find the best post it develops between exhausting hikes up to the top of the mountains and dangerous walks on slippery stones in a spectacular bay, many times by night and generally alone.
In such a hard conditions, one of the basic needs is without doubt the equipment transportability. In order to achieve the expected quality results, we try to carry the longest slider possible, but until now was impossible to bring with us a slider above a meter of length, easy to carry around.
Now the ShooTools new Slider ONE eXtension Track 240 allows it! As a matter of fact, it allows to have always with you 3 rails of 80 cm, joined easily one to each other through a plate of junction, and to carry them easily into a comfy bag, 80 cm long.
This device allows to exceed the 2m length slide to realize a spectacular timelapse sequence, without give up with transportability. Furthermore, also filmmakers can use the 80 cm long slider measure, without doubt the best one for roundup videos, even in the manual mode.
The slider is extremely easy to assemble with a junction plate: this one is a little aluminium plate with 4 holes that joins the extreme parts of the slider thank to two screws in each side, forming a unique rail.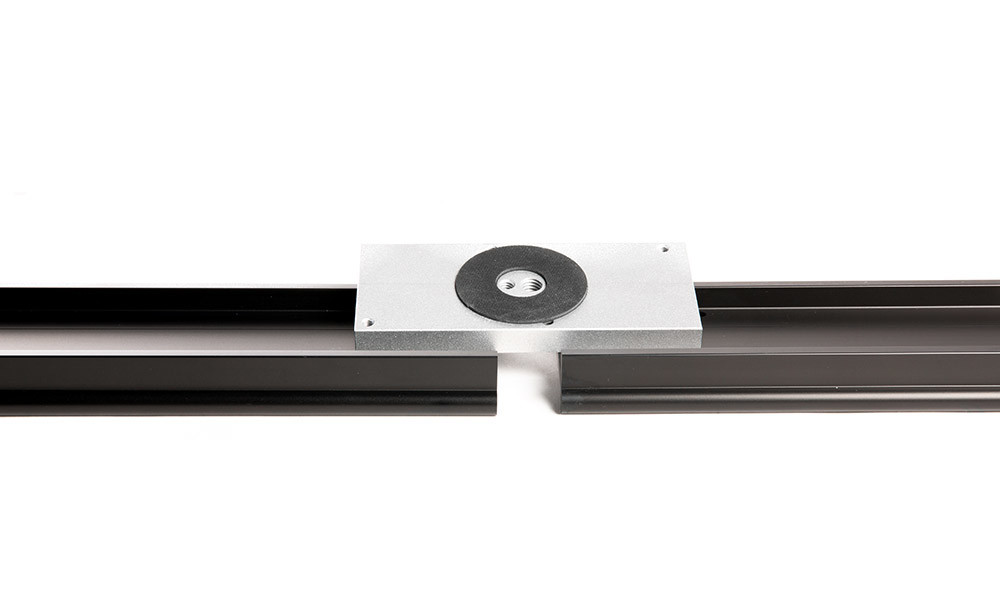 Then install the motor engine: it allows the carriage to run due to a toothed belt, fixed at the slider's extremity. The full set up requires only a few minutes.
The sliders are extremely smooth and from this point of view, a friction system enclosed with the kit is really useful for filmmakers, as it guarantees a better flexibility if they need to shoot manually.
Due to the quality of material and the possibility of combining the equipment, the Slider ONE eXtension Track 240 could be used in every circumstance, even with bad weather condition. It is indeed an extremely strong modular device where lightness rules as main characteristic.
The Shoot Move Shoot technology guarantees the Timlapser to manage the sequence in the best way possible, as the carriage movement is perfectly synchronized with the camera shoot, that happens once the system is in pause.
This Technology avoid any risk of ­blur effect in each shot and there is no need of an external intervalometer.
The Controller is small enough and easy to carry around and it has got an incredibly life due to its integrated battery. Once you charge it once, you quite forgot to charge it again, as it can work nonstop for days. The Controller has 2 functions, namely tracking shot and Timelapse, and 3 modes such as Loop, Sync and Non­Stop.
ShooTools supplies a double motor: 09 R.P.M., more powerful and slow for timelapse, is useful also for the extreme camera movements, such as the one that from the bottom goes up. The other motor of 55 R.P.M. allows fastest movements and is studied specifically for filmmakers, who can realize smoothest camera movements.
By the way, both assembly and the controller programming are very intuitive: it is possible to master the full pack device in a short time.
ShooTools supplies its device with a 5 years warranty but what I like of ShooTools is that it's a company made of "real people", professionals with whom you can talk to in every moment for advice or receive support.