In the celebration of the Photography anniversary, the timelapse specialist in Portugal speak of his passion.
Born in Portugal and from italian family, Francesco Cerruti is a timelapse specialist. Don't know what it is? He explains.
"Basically timelapse is a technique based on Photography that allows us to speed up time, to manipulate time."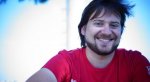 The passion about timelapse
"It accrued mainly from the photography passion inherited by my parents. When I started studying audiovisuals, the video and photography blend together. At the time I didn't even know what was timelapse, I just wanted to experiment stuff."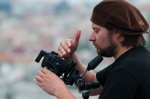 "In 2012, my biggest and most important inspiration was Timescapes. That's when the ideia of Timelapse Portugal project was born then later was accepted at the RTP Academy*link*
Is timelapse a fashion?
"Defenitly! In part, by the technological advances e because making timelapse it's easy. But making a rigorous and well done timelapse it's just a bit more complicated."
One of the videos more shared on the internet, right now - considered viral - has Francesco's hand. It show Lisbon and Sesimbra, from the eyes of Kirill Neiezhmakov*link*, and Francesco helped.
"That amazing video, of Kirill's creation, in which I had the luck and privilege to help! I helped mostly as a "producer", planing the places for him to shoot also informing the general sun position. He shot everything and this his fenomenal work that we all see."
The RTP Academy participation
Francesco believes that if it wasn't for his participation at the Academy, today his passion would be very different. Maybe not as strong as is today, but probably some steps behind. Thinking about the contacts he made back then.
"The contact with Kirill started when I was at the Academy, with Timelapse Portugal project; there was some interaction from Facebook and then more trough the Time lapse network."
Timelapse at the "Água de Mar" series.
The RTP1 (TV channel) series "Água de Mar", also has Francesco's hand in it in some exterior shot (hyper lapses).
"It's working quite all right, they are enjoining the work I've done and I watching them on TV, of course! I think it's incredible that television and producers are beting in timelapse to increase the quality and bling their products."
Today is the photography world day!
"What would I do to celebrate? Not sure! What I did, was looking in my hard drive for pictures I'm proud of and I haven't shared yet."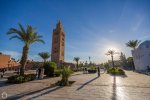 "I opened the window and shared one of those pictures I took in Marrakech. It made senso to me that picture because I remembered that photography unites the work: unites people, stories and unites cultures."
-----
This in an ENG translation (thanks Francesco!) of the original article by Inês Espojeira published on 19 August -
Source