Hi folks -
Believe it or not,I've somehow wound up with two nearly identical systems, and only have one camera. I would therefore like to part with one in order to save weight, as well as complaints from the wife. All told, the system consists of the following:
1. A complete Stage one dolly system - 4 carbon fiber rods, 2 end caps, 2 mid rod separators, 1 stage 1 dolly, 1 4 foot ribbon.
2. One NMX controller with the latest firmware
3. One 12 volt battery - holds a charge but doesn't charge much above 12 volts. Comes with the charger and cable
4. Three 19:1 Dynamic Perception stepper motors - all of which work well. Included as well is 6 cables(in case 3 break)
5. Two Stage R pan/tilt heads. Included is the camera L bracket, Arca head, and L bracket required to put the two together.
6. One dolly buddy to hold the NMX and battery
7. One adjustable L bracket to allow the pan/tilt heads to remain horizontal when placing the dolly at an angle.
I think that's it. All told everything is in excellent working condition (not pristine, but beautiful to use). Bought new, it would come to something around $2500. I would like $1600 for everything + shipping. I have most of the original boxes, and will pack well.
If you have questions, or would like pics, please contact me at
standeej@cobleskill.edu
and I'll send them straightaway.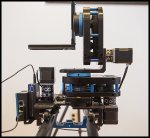 Cheers - Ed