Time Lapse Network Founder
Staff member
hey guys,
as an Apple iPhone owner from a very long time, I'm unfortunately not totally familiar with Android's solutions for time-lapse.
As you know, Apple has introduced its native support to time-lapse photography some time ago on iOS, which made lots of pro apps just useless for "simple time-lapse makers".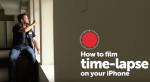 For those who're not yet familiar with it, just check this video out I found on YouTube:

How to shoot a time-lapse video on iPhone
That said, I was trying to find the same solution for Android phones and I'm still struggling to understand whether there is a similar native and free solution or not.
As far as I know, the following are the solutions available at the moment:
Lapse It

Lapse It is an award-winning full featured app for capturing amazing time-lapse and stop motion videos with your Android camera. It is simple, fast and intuitive.
No need for expensive photography equipment, you just need Lapse It.

Found a video review too:


TimeLapse
TimeLapse is an application that lets you capture a set of photos and create a time-lapse video.
Time-lapse photography is a technique whereby the frequency at which film frames are captured (the frame rate) is much lower than that used to view the sequence. When played at normal speed, time appears to be moving faster and thus lapsing.

This app was created as a project at Warsaw University of Technology.


Framelapse
A full featured app for creating stunning time-lapse videos on your Android™ device. Record high quality time-lapse clips effortlessly thanks to the simple, fast and intuitive interface. The app is free and contains no ads!


Anyone can help with extra inputs?
thanks
Marco