Hello to all Timelapse Collegues, finally I am here.
Thank You Marco for inviting me, it is really a great platform for my main passion: Timelapsing.
I am impressed, that for such a long time you (and your helpers) still kept on running this Website! Cool!
It has been a while, since I was kind of "active" on the internet especially on forums, although I am keeping on doing lapses since 2007.
As some of you may remember my "Debut" Berlin Hyperlapse of 2012 (Have a look at my Bio) you can be sure, that I will continue conversate with the community and sharing experience as I used to do. Now even in Video Tutorials! I am happy to find other passionated hyperlapse-Enthusiasts, who feel the same way... And here I am surrounded by them.
I started "hyperlapsing" with a Coolpix L12 back in 2007
... switched to an Exilim FH20 in 2010...then finally recognized that I seriously should have a DSLR = D7000
(Because it was kind of a waste of all the Hyperlapse-Effort, if shot with low Quality) ...Continued as long as I could with 2x D7000 and recently in 2017 I purchased
two new models D500 and D5600. But basically I can hyperlapse with quite any Camera. ..even with a Mobile Phone. No.. not the app
My favorite lense-models are or have been various:
18-105mm & 55-300mm
11-16mm &

16-80 mm
18-400mm & 150-600mm
105mm Macro & Macro Phonelens
I use various Tripods/Heads and other smallish equipment.
I hope this is enough for an introduction, I would want to tell you more, but this fills a book.
Ask me anything, I will appreciate questions and by the way, I am still learning as well, as everybody should.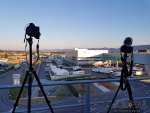 This is o
nly the teaser for:
Last edited: