DitoGear
, a company providing innovative motion control equipment, announces DitoGear™ VibraFreek, an
affordable vibration dampening system for automotive cinematography
allowing to shoot ultra-smooth footage from moving vehicles.
The system is designed as a
supplementary rig for safely mounting and using gimbal stabilizers
(such as DJI Ronin, Freefly Systems MōVI or ACR Systems stabilizers) onto moving vehicles. The heart of the system, VibraFreek vibration dampening arm effectively
reduces both low and high frequency vibrations
allowing for smooth and fully safe operation of the mounted gimbal and camera system even at higher speeds.
An optional X/Y platform contribute to performance of the system under extreme conditions such as high speeds, wind or rough terrain. VibrafFreek arm comes as a fully designed system to allow mounting and adjusting across the range of vehicles.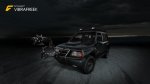 "We're very excited because VibraFreek bridges the gap between the possibilities of today's popular gimbal stabilizers and very expensive automotive cinematography rigs. We designed and engineered an efficient system that enables cinematographers and all non-specialized production studios to shoot high-end automotive footage at a very affordable budget."
- says Patryk Kizny, partner at DitoGear™ responsible for the company marketing.
Availability
The products are already available on preorder with special introductory pricing at
www.ditogear.com
and the first production batch ships by May 25th.
Introductory pricing
DitoGear™ VibraFreek Arm - $2450
Win a $2450 VibraFreek Stabilizer
Anyone can win the Vibrafreek Stabilizer Arm thanks to a special give-away prepared together with
Planet5D
and running until May 14th, 2015.
Enter now the GiveAway